Warmly congratulate SHANDONG HIGHTOP GROUP on being awarded the BENEFITS page of ALI MARCH EXPO
Tags: HIGHTOP GROUP,MARCH EXPO,Alibaba.com Date:2021/03/02
On the second day of the March EXPO battle in 2021, TOP machinery manufacturers in Northern Region, Centennial Beishang, Linyi regional merchants, and Shandong Hightop Machinery Group Co., Ltd. boarded the Benefits page of the MARCH EXPO venue, and talked with Brazilian buyers to win MARCH EXPO!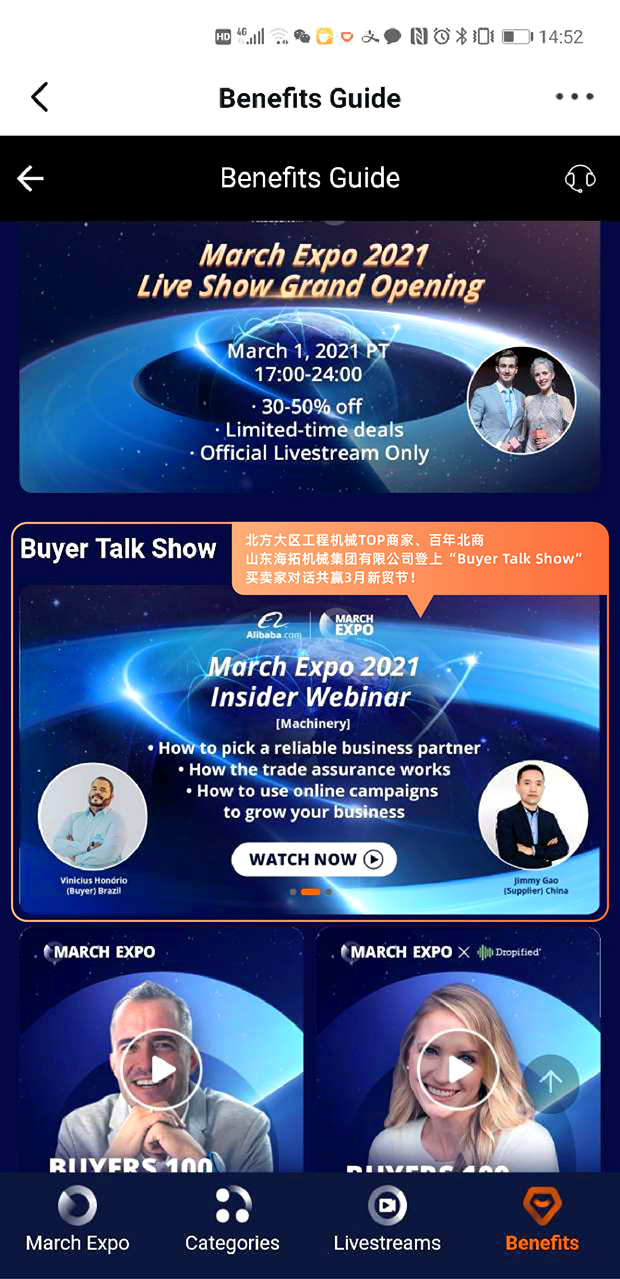 Directly enter the Befefits page of the buyer of MARCH EXPO, and the half-hour dialogue program Hightop Machinery speaks strongly on behalf of the northern merchants!
Click the link to watch the dialogue show:
https://vod-icbu.alicdn.com/7c569251818fbca4/2ItVIKKcVFx46F8ro6P/EsRPBN5BkFGLF0fkObq_299945454683_mp4_264_hd.mp4
Hightop Machinery Jimmy mentioned: Hightop Machinery has grown from a 4-person team to a 200-person team with the help of Alibaba in 5 years. In 2020, its export volume will exceed 30 million US dollars, and more than 95% of its customers are from Alibaba International Station! It develops rapidly through new scenarios such as tapping buyers' needs, laying out Alibaba international platform traffic, and online exhibitions!
Hightop Brazilian buyers mentioned that they have been looking for high-quality merchants through Alibaba.com since 2008. Offline exhibitions cannot be held this year. Online exhibitions are an important way to discover merchants. Working with Hightop, the company grew into one of the largest machinery companies in Brazil,. 80% of the sales in the past 3 years have been achieved through e-commerce. The excellent innovation & cost-effectiveness made in China are deeply loved by the Brazilian market, and credit guarantee transactions are guaranteed!